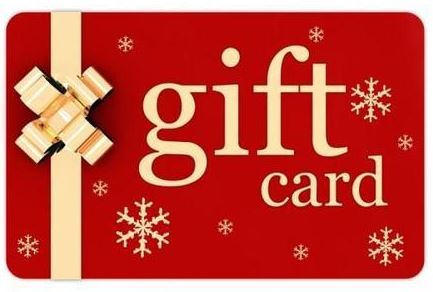 GIFT CARDS
Gift Cards are a great way to provide Meals to your Family and Friends.  2 of our most popular meal items are available to purchase.  Turkey Full Meal Deal for 6 - 8 and 
Turkey Festive Feast for 2.
Once you purchase a Gift Card, you will be sent an email asking you who the gift card is for and when you would like the Gift Card delivered, by Email, or you can print up the Gift Card to give to the recipient yourself.  

Very Simple.

 
Christmas
 Meal Gift Cards

must be processed by December Tuesday, 19th of December. Meal Pickup will be December 23rd.  Thank you.
CHRISTMAS MEAL DISCOUNTS
(Already applied)
12% PRE-ORDER DISCOUNT UNTIL NOVEMBER 15TH 2023. 
10% PRE-ORDER DISCOUNT FROM NOVEMBER 16TH - NOVEMBER 30TH. 

 
DECEMBER 1 - DECEMBER 19TH. NO DISCOUNT.